Friday's Hot & Cold Probable Starters
By
Freddy Wills
on 04/05/2012 9:01 PM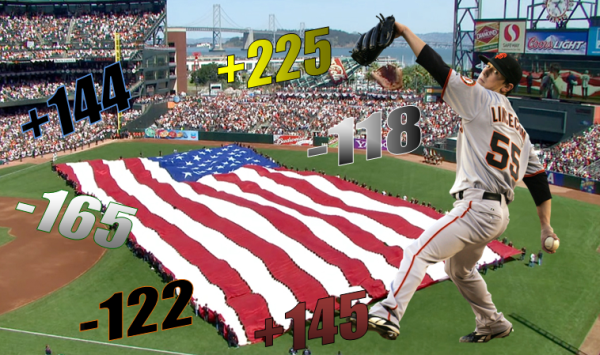 We had a successful opening day for our free pick with the Reds winning 4-0 over the Marlins who continue to struggle for the second day in a row. We also caught a tough loss with the Indians blowing their 4-0 lead giving up 3 in the 9th.
Friday the rest of the league is in action and it made me think just how different betting on baseball is than other sports. You can easily find value on any given day and some days you have to pay the price on -175 or higher. We try not to get into all that action and like to keep our plays between +150 and -150 but occasionally we will go outside those numbers. Friday's hot starter is Jamie Garcia from the reigning World Series Champions who opened up Wednesday night.
Take Garcia & The Cardinals +115 (2* PLAY)
Despite Garcia's struggles on the road in his career we like the Cardinals here because of Garcia's consistency in April. Garcia had a 2.79 ERA in 5 starts this spring with a 1.09 WHIP and had a 2.08 ERA last April. Garcia over 9 GS in the last 3 years in April carries a 1.60 ERA. Talk about starting hot. He also has seriously good numbers vs. the Brewers who are now without their best hitter in Prince Fielder. Ryan Braun is just 5-22 vs. Garcia and Garcia has a 2.72 ERA in 7 starts over the last 3 years vs. the Brewers. Brewers were 12th in OPS vs. LHP with a .733, but the Cardinals were better vs. RHP .765 #1 in the National League. I like the Cardinals replacements for Pujols better than what the Brewers did.
Brewers added Aramis Ramirez, the Cardinals got Carlos Beltran and they bring back their NLCS and World Series MVP in David Freese to bat 5th. Yovani Gallardo is an excellent pitcher but the Cardinals already spoiled the Marlins opening day and I think they do it again here. Gallardo was not sharp in April last year posting a 6.23 ERA and he has struggled vs. the Cardinals. Cardinal hitters have a .803 OPS in 133 AB against Gallardo. In 9 starts over the last 3 years he has a 4.96 ERA vs. the Cardinals including his start last September when he gave up 8 ER at home. Gallardo carried a 1.52 WHIP this Spring and you can't get by facing the Cardinals allowing more than 1.5 runners to reach base per inning.
Notable Hot Starters:
C.C. Sabathia (6GS, 2.12 ERA, 1.21 WHIP - April 2011)
Jamie Shields (6GS, 2.14 ERA, 0.95 WHIP - April 2011)
Jeremy Guthrie (5GS, 2.53 ERA, 1.09 WHIP - April 2011)
Jered Weaver (5GS, 1.14 ERA, 0.81 WHIP - April 2011)
Cold Starter Of The Day:
Yesterday's cold starter was also our play of the day with Kershaw and the Dodgers. Although Kershaw left the game early because of the flu. Tonight we give you Colby Lewis who had a 5.70 ERA last April. Despite the high ERA that is mainly due to the ballpark he plays in he carried a 1.36 WHIP which indicates that ERA should actually be a little lower. The good news is he faces John Danks and the White Sox. Lewis has dominated the Sox hitters who have 70 AB, .214 average and a .542 OPS against him.
Danks has struggled vs. Texas allowing a .788 OPS in 158 AB. Lewis playing at home where the Rangers just dominated a year ago hold a considerable advantage in this game and we may have a small bonus play on this tomorrow.
Notable Cold Starters:
Carl Pavano (5GS, 5.12 ERA, 1.20 WHIP - April 2011)
Yovani Gallardo (5GS, 6.23 ERA, 1.55 WHIP - April 2011)
Jason Vargas (6GS, 5.45 ERA, 1.40 WHIP - April 2011)
Chad Billingsley (5GS, 5.34 ERA, 1.37 WHIP - April 2011) get more
mlb sports picks
every day