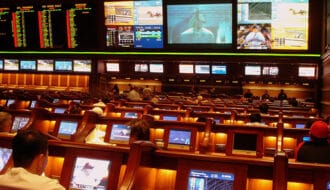 The online sportsbook industry has grown considerably the past ten years or so and continues to grow at a constant pace.
There are many sites popping up online every year, especially right before the football season arrives.
The number of online wagering websites has to be in the hundreds these days. Not every sportsbook is the same, not even close.
There are only a handful of reputable online sportsbooks that have been in operation for years with solid track records, financial stability and legitimate business practices along the way.
On the other hand, there are also some sportsbook sites that will be very eye catching, offering huge bonuses on initial deposits to lure players in, only to slow pay or close-up shop with no intentions of paying out anyone.
The most important criterias when selecting an online sportsbook should be the following:
How safe are my funds?
Will they pay if I happen to win?
Will they be around long-term?
The best methods of figuring out these questions and easing your mind in the process, is to do your homework and study every sportsbook you plan on using. Don't get lured in by an online sports book you know nothing about.
Some signs that a sportsbook is most likely trustworthy for your betting action are:
Reputation – Solid track record of honesty and legit business tatics. Are officially regulated and licensed where their operation resides. Endorsed by others with experience using them.
Longevity – Have been around for more than three years, with no signs or intentions of going anywhere.
Stability – The financial stability to pay-out in a timely manner and a proven track record of doing so.
Security and Customer Care – Clearly displayed security encryption that your money is safe and contact information available easily in case you have any problems.
Some telling signs that a sportsbook might NOT be worthy for your action are:
Large Bonuses – Ridiculous bonuses of 100% with 10x rollovers of your first deposit and reloads.
Little Information – Little to no visual information about them on thier site, like where they're located and are they licensed etc. No customer service contact or phone numbers visible.
Unordinary Lines – Lines that look unique and way-off from other bookmakers.
Timing – A sportsbook that opens for business a few weeks before the football season or a little before the Super Bowl. These books are usually fly-by-night operations with no intentions of staying open very long.
Slow Pay or No Pay – Books that have a notorious history of slow or no paying. Reports of consistently not honoring certain bets or bonuses.
These are just some of many signs to look out for when selecting an online sportsbook. Of course there will be other factors in your decision making like customer service, betting options and reduced vig etc.
With all of this being said, make sure to get as much information as you can and use common sense before making a deposit into any online sportsbook website.
Avoid playing at any site you fear losing your money and never wager more than you can afford to lose.