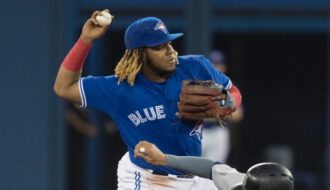 Thank god it's Friday. The weekend is here with 15 games, including Yankees vs. Mets Subway Series doubleheader on the Major League baseball card for today.
View 5 expert MLB baseball picks and predictions with analysis for Friday, August 28, 2020 released by our betting experts below.
Visit any of the handicappers to view their top rated selections, best bets, documented records and more.
Be sure to check out the documented MLB profit leaders to see who's been profiting for the week, month and entire baseball season.

John Martin
Baltimore Orioles @ Toronto Blue Jays
Game Time
Friday, Aug 28, 2020, 6:37 PM ET
Current Odds
Blue Jays -205, O/U 9½ @
5Dimes
The Toronto Blue Jays beat the Red Sox 9-1 yesterday to get back above .500 for the season. They are a nice young team with a potent lineup that has scored 16 runs their last two games against the Red Sox.
John Means is 0-2 with a 10.12 ERA in four starts this season for the Orioles with 12 earned runs allowed in 10 2/3 innings.
Hyun-Jin Ryu is 2-1 with a 3.19 ERA in six starts this season, including 1-0 with a 1.59 ERA in his last three outings.
Toronto should put away Baltimore early in this one and win by multiple runs.
Give me the Blue Jays on the Run Line.

Chip Chirimbes
Pittsburgh Pirates @ Milwaukee Brewers
Game Time
Friday, Aug 28, 2020, 8:10 PM ET
Current Odds
Brewers -195, O/U 9 @
Pinnacle
I have been waiting for this, but I hate laying this type of wood and would consider the run-line.
Derek Holland (1-1, 6.17 ERA) starts for Pittsburgh and he at best belongs in A-ball surrendering eight home runs in just 21 innings.
I don't care who pitches for the Brewers with will knock Holland out early Get Chips Triple-Play of MLB Best Bets and play on Milwaukee run-line!

Dave Price
Oakland Athletics @ Houston Astros
Game Time
Friday, Aug 28, 2020, 9:10 PM ET
Current Odds
Astros -110, O/U 9 @
5Dimes
The Oakland A's (22-10) look like legitimate World Series contenders this season.
The Houston Astros (17-14) are no longer the juggernauts they were before now that they're not cheating, and plus they have lost their top 2 starters from last year in Cole and Verlander.
The A's have a huge edge on the rubber in this matchup. Chris Bassitt is 2-1 with a 2.97 ERA and 1.08 WHIP in 6 starts this year for Oakland. Bassitt is also 2-1 with a 3.68 ERA and 1.06 WHIP in 6 lifetime starts against Houston.
Lance McCullers is 2-2 with a 5.74 ERA in 6 starts this year for the Astros. McCullers is 4-2 with a 4.40 ERA and 1.51 WHIP in 8 lifetime starts against the A's.
Take Oakland.

Jack Jones
San Francisco Giants @ Arizona Diamondbacks
Game Time
Friday, Aug 28, 2020, 9:40 PM ET
Current Odds
D-backs -158, O/U 8½ @
BetOnline
The San Francisco Giants had their shocking seven-game winning streak come to an end in emphatic fashion yesterday. They were shut out in both games of their double-header with the Dodgers, and now they're back to reality.
Now the Giants have to try and get back up off the mat and travel to Arizona to face the Diamondbacks in Game 1 of this series. They run into a highly motivated, rested Diamondbacks team that had yesterday off and will be hungry to end an eight-game losing streak.
Ace Zac Gallen is proving to be everything the Diamondbacks had hoped for and more when they traded with Miami for him. He has posted a 2.25 ERA and 1.056 WHIP in six starts this season with 42 K's in 36 innings. Gallen allowed only one run in six innings on August 22nd against the Giants in his only career start against them.
Tyler Anderson is 0-1 with a 5.94 ERA and 1.620 WHIP in four road starts for the Giants this season. Anderson is 2-1 with a 5.95 ERA and 1.536 WHIP in eight career starts against the Diamondbacks. Arizona is favored heavily for good reason here due to its huge advantage on the mound.
Bet the Diamondbacks Friday.

Larry Ness
San Francisco Giants @ Arizona Diamondbacks
Game Time
Friday, Aug 28, 2020, 9:40 PM ET
Current Odds
D-backs -158, O/U 8½ @
BetOnline
My free play is on the Arz D'backs at 9:40 ET.
The San Francisco Giants' seven-game winning streak ended with a thud on Thursday, as the hated-Dodgers swept the host Giants in a doubleheader (7-0 & 2-0) that took place because both teams agreed not to play Wednesday.
The 15-18 Giants begin a five-game road trip Friday night in Arizona, the first of three vs the slumping D'backs. Arizona was 13-11 after winning SIX in a row from Aug 12-18 but welcomes the Giants to Chase Field having lost EIGHT straight games to fall to 13-19. The D'backs haven't played since Wednesday, as Colorado and Arizona did not play Thursday due to protest
Friday's pitching matchup is a 're-hook' from last Friday, when Tyler Anderson (1-1, 3.45 ERA) and the Giants beat the D'backs 5-1, who started Zac Gallen (0-0, 2.25 ERA).
Anderson began his career with the Rockies in 2016 and over his first two seasons, went 11-12 with a 4.09 ERA over 34 starts. He made 32 starts in 2018, going 7-9 with a 4.55 ERA. He began the 2019 season in the Rockies rotation but was quickly placed on the DL due to knee inflammation.
He came off the DL a week later and made five starts before being demoted to AAA. He underwent major season-ending surgery to correct a chondral defect on June 11 of 2019 in his left knee, which was expected to require a lengthy recovery time. He made just five starts in all of 2019, going 0-3 with an 11.76 ERA.
Anderson was claimed off waivers by the San Francisco Giants on Dec 2. His 5-1 victory over the D'backs last Friday was the first complete game of his career!
You may have noted above that Zac Gallen has yet to have a decision in 2020 (win or loss), despite making six starts. However, Arizona is 4-2 in his starts, as he not only owns a 2.25 ERA but his WHIP is 1.06 (42-12 KW ratio) and his BAA is .202.
Gallen pitched six strong innings last Friday against the Giants, allowing just three hits and one ER but again, settled for a no-decision. However, here's the rub. Gallen can set a major league record by allowing three or fewer ERs in his first 22 major league starts with another excellent outing here (note: He currently shares the record with former Boston Red Sox pitcher Aaron Sele).
Isn't Gallen long OVERDUE to pick up a "W?" Why not here vs Tyler Anderson?. After all, before pitching his first career complete game last Friday vs Arizona, Anderson had gone just 1-14 in his previous 20 starts (teams were 4-16). I'm with Gallen in this one. You in?
Good luck…Larry
View all available free MLB picks and predictions with analysis for today.
Check out all top rated MLB selections and best bets for Friday and every day during the baseball season.