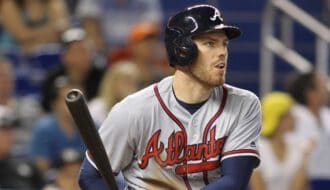 15 games on the baseball betting card for today with a few plays that are worth a look and possible bet.
View 4 expert MLB picks and predictions with analysis for Saturday, September 12, 2020 released by our baseball betting experts below.
Visit any of the handicappers to view their top rated selections, best bets, documented records and more.
Be sure to check out the current best MLB handicappers to see who's been profiting for the week, month and entire baseball season.

Jack Jones
Atlanta Braves @ Washington Nationals
Game Time
Saturday, Sep 12, 2020, 6:05 PM ET
Jack's Free Pick Saturday: Atlanta Braves -112
The Atlanta Braves are hitting the cover off the ball right now. They have scored at least four runs in 12 of their last 13 games overall, including a combined 43 runs in their last three games. Look for them to bounce back following a tough 7-8 loss in extra innings to the Nationals yesterday.
Ian Anderson has been dominant in his three starts for the Braves this season. He is 2-0 with a 2.40 ERA and 1.067 WHIP while allowing just four earned runs and one homer with 18 K'sin 15 innings of work.
Pat Corbin has been a disappointment for the Nationals. He is 2-4 with a 4.34 ERA and 1.467 WHIP in eight starts this season. One of those starts came against the Braves on September 6th as he allowed five earned runs and 13 base runners in 5 1/3 innings of a 3-10 loss.
Atlanta is 23-7 as a favorite of -110 or higher this season. The Braves are 71-29 in their last 100 games as a favorite.
Washington is 7-22 against right-handed starters this season. The Nationals are 2-9 in their last 11 games following a win.
Bet the Braves Saturday.

Sean Murphy
Chicago Cubs @ Milwaukee Brewers
Game Time
Saturday, Sep 12, 2020, 7:10 PM ET
We saw a pitcher's duel between these two clubs last night as the Brewers prevailed by a 1-0 score. I expect another low-scoring affair on Saturday at Miller Park.
Kyle Hendricks has been one of the most underrated starting pitchers in baseball for a number of years. He'll take the ball for the Cubs tonight.
While his strikeouts per nine innings are down slightly from his baseline career numbers, his command has actually been better as he's issuing just 0.9 walks per nine frames – a career-low. Here he faces a Brewers club that ranks 24th in the majors in runs per game and 25th in team batting average.
Milwaukee veteran starter Brett Anderson's strikeouts per nine innings are up compared to last season while his walks are down considerably. He also benefits from a favorable matchup here as the Cubs rank T19th in runs per game and 26th in team batting average.
Take the under (8*).

Brandon Lee
Seattle Mariners @ Arizona Diamondbacks
Game Time
Saturday, Sep 12, 2020, 8:10 PM ET
Current Odds
D-backs -155, O/U 8½ @
Betonline
I really like the value here with the UNDER 8.5 in Saturday's interleague matchup between the Mariners and Diamondbacks. Seattle's offense comes into this one in a major funk. They got a whopping 4 runs on 8 hits over their last two games combined.
Hard to see them snapping out of that funk against Arizona's Zac Gallen, who comes in with a 2.29 ERA and 0.982 WHIP in 9 starts. Gallen has allowed just 6 runs on the season over 4 home starts.
Key here is I don't see the Diamondbacks doing much offensively either. Seattle will send out youngster Justus Sheffield. While Sheffield owns a mere 4.34 ERA in 7 starts, he's got a strong 1.285 WHIP and a 3.14 FIP. Arizona is also scoring just 3.1 runs/game and hitting .212 as a team against left-handed starters this season.
Neither of these guys give up many home runs, so both offense will have to work for it. Gallen is allowing 0.98 HR/9 and Sheffield is even better at 0.48 HR/9. Both also create a lot of swing and misses. Gallen has a 27.9 K% and Sheffield is at 21.9%.
Give me the UNDER 8.5

Dave Price
Houston Astros @ LA Dodgers
Game Time
Saturday, Sep 12, 2020, 8:15 PM ET
Current Odds
Dodgers -142, O/U 9½ @ 5Dimes
Dave's Saturday Free Play:
1* on Los Angeles Dodgers -142
The Key: The Houston Astros are 1-8 in their last 9 games overall.
The Los Angeles Dodgers would like to keep their misery going after feeling robbed of a World Series title by the Astros a few years ago.
Julio Urias is the better starter in this matchup. Urias is 2-0 with a 3.16 ERA in 5 home starts this year.
Framber Valdez is 1-2 with a 4.15 ERA in 3 road starts. Valdez is 1-1 with a 6.43 ERA in his last 3 outings.
This is a very reasonable price to back the best team in baseball as the Dodgers are 32-13 this year.
Take Los Angeles.
View all available free MLB picks and MLB expert picks for Saturday and daily throughout the 2020 baseball season.