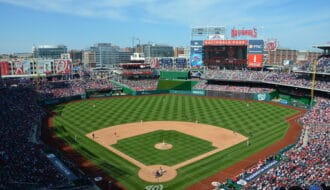 A new week, a new selection of MLB betting opportunities to build our bankrolls. A short card for today with only 9 games on the board, but still some value to be found.
View 5 featured MLB baseball picks and predictions with analysis for Monday, August 24, 2020 released by our betting expert below.
Visit any of the handicappers below to view their top rated selections for tonight, best bets and documented records.
Don't forget to look at the best MLB cappers for the week, month and entire season.

Dave Price
Miami Marlins @ Washington Nationals
Game Time
Monday, Aug 24, 2020, 6:05 PM ET
Current Odds
Nationals -107, O/U 9 @
5Dimes
We're getting the defending World Series champs at a great price Monday as small favorites over the Miami Marlins.
The Marlins started surprisingly hot at 9-4 but have come back down to reality since, going 2-7 in their last 9 games overall. They have been overvalued due to that hot start. The Marlins haven't scored more than 5 runs in any of their last 9 games and have a putrid offense.
Austin Voth is 0-1 with a 1.80 ERA and 0.70 WHIP in his 2 home starts this year for the Nationals.
Pablo Lopez has never beaten the Nationals, going 0-2 with an 8.86 ERA and 1.88 WHIP in 5 lifetime starts against them.
Take Washington.

Jack Jones
Oakland A's @ Texas Rangers
Game Time
Monday, Aug 24, 2020, 8:05 PM ET
The Texas Rangers will be highly motivated for a victory tonight over the Oakland A's. They have lost eight straight coming in and need to get it turned around quickly. Ace Lance Lynn is just the guy to stop the bleeding.
Few starters have been as impressive as Lynn this season. He is 3-0 with a 1.37 ERA and 0.814 WHIP in six starts, allowing just 6 earned runs with 42 K's in 39 1/3 innings.
Lynn is 2-0 with a 2.28 ERA in his last four starts against Oakland dating back to last season, allowing 6 earned runs with 35 K's in 23 2/3 innings. He'll be opposed by Jesus Lazardo, who is 2-0 with a 3.54 ERA and 1.377 WHIP in four starts for the A's this season.
The Rangers are 7-6 at home in 2020. They are 4-1 in their last five home games vs. a left-handed starter.
Bet the Rangers Monday.

Brandon Lee
Cincinnati Reds @ Milwaukee Brewers
Game Time
Monday, Aug 24, 2020, 8:10 PM ET
Current Odds
Reds -135, O/U 8½ @
5Dimes
Trevor Bauer has simply been too good to pass up a play on the Reds at -135. Bauer has been the best pitcher in baseball for 2020. He's got a league-best 0.68 ERA and 0.57 WHIP.
His 14.0 K/9 ranks second among starters, behind only the Indians Shane Bieber (14.4). Next best is Scherzer at 12.6.
He's made 3 of his 4 starts on the road, so that's not a concern here. One of those was at Milwaukee back on 8/7. He allowed 1 run on 3 hits with 12 K's in 6 innings of a 8-3 win.
Brewers will have Brett Anderson on the mound. He's got a respectable 3.71 ERA in 4 starts, but his WHIP is way up there at 1.353. He's struggled at Miller Park, posting a 5.40 ERA and 1.649 WHIP in 2 home starts. He also has a 5.33 career ERA against Cincinnati.
Give me the Reds -135!

Sean Murphy
Cincinnati Reds @ Milwaukee Brewers
Game Time
Monday, Aug 24, 2020, 8:10 PM ET
Current Odds
Reds -135, O/U 8½ @
5Dimes
I'll back the 'under' at Miller Park on Monday night as Reds ace Trevor Bauer looks to continue his red hot start to the season. Bauer is undefeated with a 0.68 ERA and 0.57 WHIP not to mention a 41:7 strikeout-to-walk ratio so far. H
ere he'll face a bottom-tier Brewers offense that ranks T26th in runs per game and 27th in team batting average.
Brewers veteran starter Brett Anderson went 13-9 with a 3.89 ERA last season and he's actually pitched even better in the early going this year. Anderson's strikeouts per nine innings are up while his walks are down compared to 2019.
We're obviously still dealing with a small sample size when it comes to both of these starters, but I look for the trends to continue in their favor on Monday.
Take the under (8*).

John Martin
LA Angels @ Houston Astros
Game Time
Monday, Aug 24, 2020, 9:10 PM ET
Current Odds
Astros -150, O/U 9½ @
5Dimes
The Houston Astros are 10-4 at home this season and return home after getting swept at San Diego over the weekend.
They get back on track here against the Los Angeles Angels, who are 9-20 on the season and just 4-11 in road games.
Framber Valdez is 2-2 with a 1.80 ERA in his four starts this season for the Astros.
Patrick Sandoval is 0-3 with a 5.40 ERA in his four starts for the Angels.
Valdez is 2-1 with a 1.69 ERA in three previous starts against the Angels, while Sandoval is 0-1 with a 5.69 ERA in two previous starts against Houston.
Give me the Astros.
View all available free MLB picks with analysis for Monday.
Check out top rated selections and best bets for Monday by visiting the premium MLB picks page.