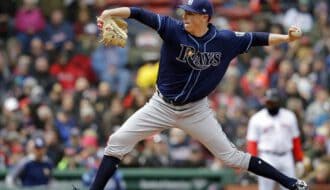 The weekend is here with almost a full slate of games (Yankees/Mets game postponed). Still 14 games on tonight's MLB betting card to choose from.
View 5 featured MLB baseball picks and predictions with analysis for Friday, August 21, 2020 released by our betting expert below.
Visit any of the handicappers below to view their top rated selections for tonight, best bets and documented records.
Check out the current baseball profit leaders to see who's been profiting for the week, month and entire MLB season.

Rocky Atkinson
Toronto Blue Jays @ Tampa Bay Rays
Game Time
Friday, Aug 21, 2020, 6:40 PM ET
Current Odds
Rays -140, O/U 8½ @
5Dimes
Play On: Tampa Bay -140 (Shoemaker/Yarbrough) Listed
The Toronto Blue Jays travel to Tampa Bay to take on the Rays on Friday night. Toronto is 12-11 SU overall this year while Tampa Bay comes in with a 17-9 SU overall record on the season.
Matt Shoemaker is 0-1 with a 5.22 ERA overall this year and 0-1 with a 6.75 ERA his last 3 starts. Yarbrough is 1-1 with a 3.26 ERA in his 4 career starts vs Toronto. Toronto is scoring only 3.4 runs per game against left handed starters.
Tampa Bay is scoring 7.3 runs per game past 7 games overall. Tampa Bay is allowing only 3.5 runs per game at home this season. Tampa Bay is 17-5 at home vs Toronto past 3 years. Tampa Bay is 13-4 this year against right handed starters. Tampa Bay is 6-1 this year at home when the total is 8 to 8 1/2.
We'll recommend a small play on Tampa Bay tonight! Thanks and good luck, Rocky

Dave Price
Minnesota Twins @ Kansas City Royals
Game Time
Friday, Aug 21, 2020, 8:05 PM ET
We are getting the Minnesota Twins at a great price against the Kansas City Royals today.
Jake Odorizzi has held the Royals to 2 earned runs or fewer in 6 of his last 9 starts against them. He gave up 3, 4 and 4 earned runs in the other 3 starts, so he has consistently held them in check.
Danny Duffy is 1-2 with a 7.16 ERA in his last 5 starts against Minnesota while yielding 22 earned runs and 11 home runs in 27 2/3 innings.
The Twins are scoring 6.1 RPG on the road this year and will tee off on Duffy once again.
Take Minnesota.

Larry Ness
Cincinnati Reds @ St. Louis Cardinals
Game Time
Friday, Aug 21, 2020, 8:15 PM ET
Current Odds
Cardinals -105, O/U 9 @
Pinnacle
The St Louis Cardinals opened the 2020 season 2-3 through July 29 but a COVID-19 outbreak put them "on sidelines" through Aug 15. The Cards returned on Aug 15 and over the next six days, played EIGHT games vs the Chicago Cubs, going 4-4.
The Cards welcomed the Reds to St Louis last night for the first of four games and trailed Cincy 4-2 in the 9th. However, St Louis rallied for three runs to earn its first home win since July 26. The defeat dropped the Reds to 10-13, 4 1/2 games back of the Cubs in the NL Central.
The teams continue their series tonight, as Anthony DeSclafani (1-1, 6.23 ERA) takes on Dakota Hudson (0-2, 5.40 ERA). DeSclafani pitched 11 scoreless inning (just five hits allowed with an 8-1 KW ratio) but then got shelled on Aug 9th at home vs Pittsburgh, MLB's worst team (Pirates are ). he allowed NINE earned runs in just two innings, allowing nine hits, including three HRs.
The good news for Cincy is that DeSclafani went 2-1 with a 2.42 ERA in five starts against the Cardinals last season (but the Reds were 2-3) and is 7-3 with a 3.08 ERA in 15 career outings against them, including 14 starts (team is 9-5).
Hudson made 26 relief appearances for the Cards in 2018 but then made 32 starts for St Louis last season, going 16-7 with a 3.35 ERA. He's only made two starts in 2020, allowing one run in four innings on Sunday. It was his first appearance since July 26.
While quarantined in their Milwaukee hotel due to the team's COVID-19 outbreak, Hudson and the rest of the Cardinals' staff had to improvise their workouts. They are still building their arm strength.
However, Hudson was 3-0 with a 4.01 ERA in four starts against the Reds last season, with the Cards going 4-0. I say the Cards build off last night's dramatic 9th-inning comeback and move over .500 (are currently 7-7).
Good luck…Larry

Sean Murphy
Texas Rangers @ Seattle Mariners
Game Time
Friday, Aug 21, 2020, 9:10 PM ET
Current Odds
Rangers -115, O/U 8½ @
5Dimes
The Rangers have had a tumultuous week to be sure and I'm confident fading them as they head to Seattle to face the reeling Mariners on Friday night.
Kolby Allard will take the ball for the Rangers and I'm not sure he has any business being favored. While his strikeouts per nine innings are up and his walks are down, we really don't have much to go on as prior to this season he had made just 12 big league appearances in the last two seasons.
His career ERA stands at 5.92 to go along with a WHIP of 1.68. Nick Margevicius has pitched well for the Mariners in limited action this season, recording a 3.14 ERA and 0.91 WHIP not to mention an 11:2 strikeout-to-walk ratio in 14 1/3 innings of work.
After silencing the Rockies and Astros bats in his last two starts I like his chances of keeping the Rangers at bay here.
Take Seattle (8*).

Jack Jones
LA Angels @ Oakland A's
Game Time
Friday, Aug 21, 2020, 9:40 PM ET
Current Odds
Angels -115, O/U 10 @
Pinnacle
The Los Angeles Angels are favored for good reason today over the Oakland A's on the road. They have a big advantage on the mound in this one and we'll side with them as a result.
Mike Fiers is 2-1 with a 5.96 ERA and 1.480 WHIP in five starts this season for the A's with only 11 K's and 7 homers allowed in 25 2/3 innings. Fiers has posted a 5.05 ERA in 15 career starts against the Angels, including a 9.23 ERA in his last three starts against them in which he has allowed 13 earned runs and 6 homers in 12 2/3 innings.
Andrew Heaney has had plenty of success against the A's previously. He is 2-2 with a 3.77 ERA and 0.953 WHIP in seven career starts against them. He has allowed just two earned runs in 10 innings for a 1.80 ERA in his last two starts against Oakland.
Bet the Angels Friday.
View all available free MLB picks with analysis for Friday.
Check out top rated selections and best bets for Friday and every day released by expert handicappers by visiting the premium MLB picks section.