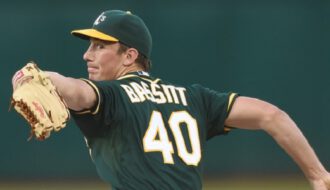 15 games including 1 doubleheader are on the MLB betting menu for today. There is 1 game postponed. (Mets vs.Yankees). A few games out of the large card stand out and are worth a look.
View 5 featured MLB baseball picks and predictions with analysis for Saturday, August 22, 2020 released by our betting expert below.
Visit any of the handicappers below to view their top rated selections for tonight, best bets and documented records.
Be sure to check out the most profitable MLB handicappers for the week, month, last 60 days and entire season.

Dave Price
LA Angels @ Oakland A's
Game Time
Saturday, Aug 22, 2020, 4:10 PM ET
Current Odds
A's -150, O/U 9½ @
5Dimes
The Oakland A's are a freight train. They are 16-4 in their last 20 games overall and consistently not getting the respect they deserve from the books.
They were actually underdogs to the Angels yesterday and won, and now they are short favorites today. That's an Angels team that is just 1-8 in their last 9 games overall to fall to 8-19 on the season.
Big edge on the rubber here with Chris Bassitt, who is 2-0 with a 2.93 ERA and 1.01 WHIP in 5 starts this year. Griffin Canning is 0-3 with a 4.69 ERA and 1.52 WHIP in 5 starts for the Angels. Canning is 1-3 with a 4.72 ERA in 5 lifetime starts against the A's.
Take Oakland.

Stephen Nover
Detroit Tigers @ Cleveland Indians
Game Time
Saturday, Aug 22, 2020, 7:10 PM ET
Current Odds
Indians -164, O/U 9½ @
BetOnline
And the winner for worst starting pitcher in the American League through five starts is … Detroit's Matthew Boyd. Boyd is 0-for-5 in quality starts this season. He has a 9.64 ERA, which goes up to 11.48 if you count just his last three starts.
The Indians are way overdue to get their offense in gear especially Francisco Lindor and Jose Ramirez.
The Tigers should enter this matchup loose and feeling good after halting a humiliating 20-game losing streak to the Indians. Detroit accomplished that with a 10-5 win Friday. Now the Tigers draw Triston McKenzie, who will be making his big league debut. He's never pitched above Double A.
David Rackley is slated to be the home plate umpire. That's a major plus for the Over as in the last four years the Over is 57-32 for 64 percent in games Rackley has been behind the plate.
Editor's note: Stephen Nover has won six of his last eight baseball sides plays and is 11-4 on his last 15 NBA plays.

Marc Lawrence
Philadelphia Phillies @ Atlanta Braves
Game Time
Saturday, Aug 22, 2020, 7:10 PM ET
Current Odds
Phillies -118, O/U 9 @
5Dimes
Play – Philadelphia Phillies w/Wheeler (Game 915).
Phillies: Wheeler 11-3 away career team-starts during August.
Braves: Erlin 6-15 last twenty-one overall team-starts, including 1-5 last home team-starts.
With Wheeler 7-3 in his last ten games as a road favorite, we recommend a 1* play on the Phillies.
Thank you and good luck as always.

Brandon Lee
Texas Rangers @ Seattle Mariners
Game Time
Saturday, Aug 22, 2020, 9:10 PM ET
Current Odds
Mariners -125, O/U 8½ @
BetOnline
I really like the value here with Seattle as a small home favorite against the Rangers on Saturday. I know laying juice with the Mariners is not easy, but it's really a steal of a price when you factor in the starting pitching matchup.
Texas will send out Jordan Lyles, who is a bit lucky to still have a job in the starting rotation. Lyles has made 5 appearances (last 4 have been starts). In his 4 starts he's allowed 18 runs on 22 hits with 12 walks in 18 1/3 innings of work. That includes a game against the Mariners, where he allowed 4 runs in 5 innings.
Seattle will have the talented 24-year-old prospect Justus Sheffield on the mound. He's made 4 starts. The first two didn't go great, but he's been really good in the last two. He held Colorado to just 4 hits in 6 shutout innings and then most recently allowed just 1 earned run in 6 innings at Houston.
You also have to factor in the lack of fire-power the Rangers' offense has. Texas ranks in the bottom 5 in runs scored, batting average, on-base pct. and slugging. Give me the Mariners -125.

Chip Chirimbes
Houston Astros @ San Diego Padres
Game Time
Saturday, Aug 22, 2020, 9:10 PM ET
Current Odds
Padres -129, O/U 9½ @
5Dimes
Padres over Astros
Maybe it is because of the home crowd support as the cutouts seem to make a difference supporting the home club.
It must be as Houston who is know for having a major advantage when playing at home when they know what pitches are coming are struggling away from home.
Home is a comfortable place for the Padres who are 10-4 as hosts while the Astros are just 3-8 on the road.
Zach Davies (3-2, 3.25 ERA) gets the nod for San Diego and Houston will send Brandon Bielak (3-0, 1.69).
Take SAN DIEGO!
View all available free MLB picks with analysis for Saturday.
Check out top rated selections and best bets for Saturday by visiting the premium MLB picks page.